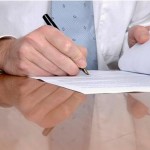 MILES McLEOD  LAW FIRM has a special expertise representing auto dealers and other allied businesses in the auto industry.  Senior partner Larry Miles has been representing auto dealers for over 25 years, including almost seven years as Vice-President & General Counsel of the Cal Worthington Auto Group from 1986-1992.  Larry was recognized in 2015 as an Outstanding Franchise Attorney by Sacramento Magazine, authored the California Auto Dealer Legal Manual and published Auto World Legal for over five years.
The Firm provides a complete range of legal services for the auto industry, including everything from buying and selling auto dealerships, developing auto malls, purchasing real estate and drafting commercial leases, to  civil and criminal litigation defense, including defense of lemon-law cases and employment lawsuits.  The firm also has considerable experience in the defense of administrative actions brought by regulatory agencies such as DMV, the New Motor Vehicle Board, the Attorney General, and local District Attorneys.
Representative Auto Industry Clients
Representative clients include the Cal Worthington Auto Group (including Worthington Ford in Long Beach and Anchorage, Worthington Dodge of Carlsbad, Folsom Imports, and other Worthington dealerships), and AutoNation USA, the largest publicly traded auto group in the nation.  Other auto dealer clients include the Planet Automotive Auto Group, The DOCS Auto Dealership Group (which includes dealerships like Frontier Toyota in Valencia),  Perry Automotive Group (which includes dealerships like Perry Ford of National City, Perry Ford of Poway, Perry Ford of San Luis Obispo, and Perry Lincoln-Mercury in Santa Barbara), Shingle Springs Nissan-Subaru-Kia, and Winter Volvo.
The firm also represents auto auctions like Brashers Auto Auctions and North Bay Auto Auction,  auto industry financial institutions, and auto industry insurance companies like Universal Insurance.
Plaintiff's Litigation
The firm also is uniquely positioned to represent plaintiff's in Consumer Law.