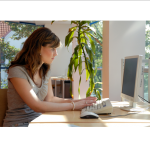 THE MILES LAW FIRM provides online training for California auto dealerships in the area of legal compliance through its web portal at www.autolawtraining.com.  While our first class focuses on legal compliance for Finance & Insurance writers, we will be adding courses that provide legal training for all aspects of the dealership environment.  The auto industry is one of the most highly regulated businesses, and the penalty for ignorance of the law can be dramatic.
Our instructors are attorneys and industry experts.  Students can accomplish their training at any time any where so long as you have a computer and internet access.  Students go at their own pace, take tests after each lesson, and complete a final exam at the conclusion of the class.  A Certificate of Completion can be printed after a student has successfully completed the class so a dealer knows that the employee has successfully completed the class.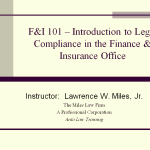 Please go to http://www.autolawtraining.com/ to review our "Free Sample Course" to get an idea of what our courses are like and then click on  "Getting Started" for a link to our training site.
Dealerships should contact Auto Law Training at autolaw@autolawtraining.com for volume discounts.