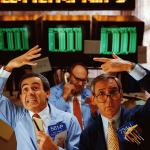 The Miles Law Firm's Larry Miles won a significant arbitration award of $118,347 in a  case decided in August against a major securities firm on behalf of our client, securing a judgment before a three arbitrator panel. 
"I'm pleased we were able to assist our client in vindicating his case and obtaining reasonable compensation for his loss," Miles said. 
The two day arbitration was before the Financial Industry Regulatory Authority (FINRA). Miles argued that the securities firm failed to properly place a significant options order and then failed to use reasonable care to discover and correct the mistake.  The order was placed on one of the most volatile days in market history.